Nude Camping at Twin Falls is a unique experience, with generous sized camp sites and facilities that are available between around October to April or so. Our barn is a comfortable entertainment area, with cooking facilities and shelter - right beside our saltwater inground pool! Non-powered and Powered sites are available (limited numbers of powered sites - not for heating or airconditioning and an additional fee applies).


Please Note: there is no refridgerator or microwave available for campers and as you are camping - BYO everything you need! Accommodation is in whatever you bring (caravans must be towed with a 4wd).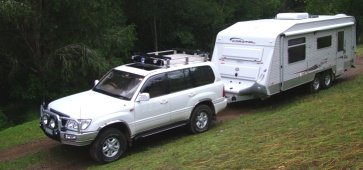 Then there's our 2km walking track - so you can be energetic (or not)! There is also Petanque and darts available. Camping is available most days with an arrival time after 1pm and 10am leave time on your day of departure. (no departures before 7am and after 11am additional day fees apply) Bookings essential! ** If you require an early departure you will be placed on the "number 11" campsite on the B&B side of the creek.

Consumables

We supply diswashing liquid only - all other consumables such as cooking oils, etc, are not provided and you need to bring whatever you need.

Changes to Twin Falls CV Policy

Meals : With our current Covid policy - we no longer provide any meals for guests. Please bring enough food, consumables, etc, so that you are self sufficient during your stay.

Site Rules

Once you have been allocated a campsite - you must not move to another without asking first - vehicles once parked are not to be moved.
Please bring a working torch and you need to take your own rubbish with you (we do have a compost bin).
No noisy generators or excessive vehicle engine running times to charge batteries are permitted at Twin Falls.
Please do not camp directly under trees! Make allowance for falling branches.
Whilst we endeavour to "reserve" favourite campsites we make no guarantee of availability of them in busy times.
Bookings are essential - as we do not allow people to just turn up! (We make no guarantee of availability for same day bookings...)
You are booking accommodation not the weather... (or anything else!) Please be realistic and plan for the occasional dud day!

NB: Caravans / Motorhomes


If you use stabiliser bars on your van hookup - we recommended taking them off before the cattle grid - better traction and turning!
There are NO "dump points" at Twin Falls and you CANNOT empty chemical toilets here.
You cannot fill your vans tanks with water at Twin Falls as we run on limited tank water, however, there is a fill point at Andrews Park in Wauchope behind the toilet block.
There is no longer any creek crossing since rebuilding our road! (yay)

Rates

Special : Pay for six nights stay for seven!

Rates per night (including day fees): 1 Person $35, 2 Persons $40, power extra $5 per night. Power is not for running air conditioning or heating.

Various payment options are available - Cash, Direct Deposit and EFTPOS (plus 3% transaction fee).

NB: We normally do not cater for children under 5 years of age nor can you bring pets.